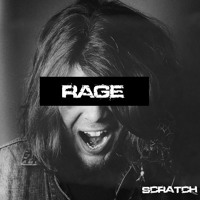 Some of you may remember Scratch the Floor from my
review
of them back in June, suffice to say these guys have really evolved since that debut release. Far from the nu-metal band they once where Scratch the Floor now play with light and dark to create vivid soundscapes and powerful music that characterizes the tracks found on their new
Rage EP,
a five song testament to the greatness of this band. With powerful riffs and a nice mix of vocal styles this is a strong sophomore release that sees the band have started to realize the potential shown on their first record.
What makes this EP really special for me is the great mix of light and dark that the band uses throughout. it adds flavor and passion to the music and makes it a lot more intelligent seeming. The end result of this is a record that is far from the groups debut (even if it was pretty awesome) and we see the band is starting to become modern metal lords. The tastes and magic that are found throughout this record are just spectacular. The group has very much advanced and these twenty one minutes leave me begging for more from a band who seem to have really started to find themselves.
In short, if you're looking for a band of guys who are just starting to figure out what they're trying to do and really starting to get a sound that shows they can go somewhere. While the EP is only five songs long, its a free stream, and really you have no excuse NOT to go listen to it. Both ferocious and beautiful there's a little something for everyone on the record and it speaks legions as to how great this group can be. In other words, if this record is any indication then the bands next full length should be a real monster of an album, a record for that will launch these guys into well deserved fame!
Find them on Facebook!
https://www.facebook.com/ScratchTheFloor?fref=ts