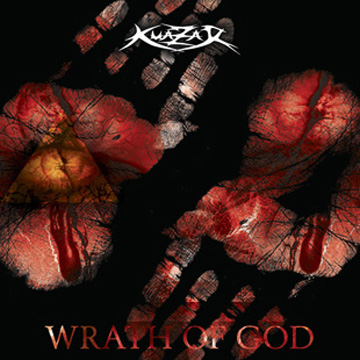 A stunning neo thrash band with surprisingly intelligent lyrics Kuazar have recently released Wrath of God a 10 song thriller that shows what the neothrash genre is truly capable of. Filled with tasty fills, destructive riffs and an incredible driving force this is a record that will fully engage the listenr and reveal to them a new type of thrash metal, one equally influenced by Spiritual Healing era Death as old school masters like Slayer. Brushing aside the rethrash movement Kuazar go straight for the jugular with a dark sound that pummels the eardrums.
This group is sure to incorporate all of the traditional thrash elements into their sound, however they spice it up with loads of death metal for an end result that is reminiscent of groups like Ramming Speed, influenced by old school thrash, but clearly not trying to emulate it. Instead Wrath of God evidences Kuazar's remarkable ability to write songs that go beyond traditional thrash metal and show that the genre can ultimately be something more, both more aggressive and more elegant as shown on songs like Twenty Days in Hell. Kuazar is one of the few bands who seem capable of helping thrash metal to achieve its ultimate destiny.
In conclusion, this act shows a shocking potential with a sound that is sure to electrify thousands. Their sound is a delicate mix of intricate melodies and dead ahead thrash metal riffs. It's an interesting listen to say the least. It provides an acute insight into the probable future of the genre. Growing more popular by the day I must encourage you to hop on board the Kuazar band wagon, these guys are ready to take the world by storm and show the masses what thrash metal is truly capable of!
Find them on Facebook!