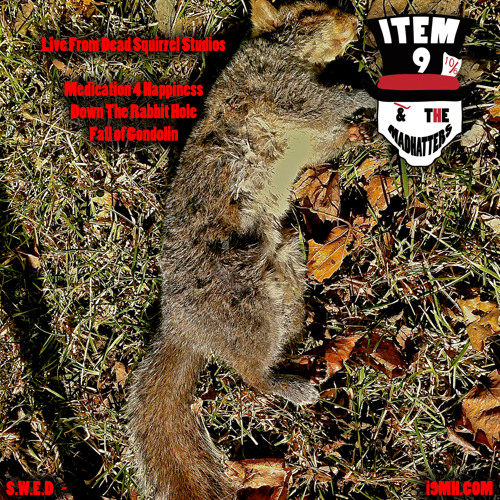 So now we have some old Two Guys Metal Reviews favorites with Item 9 & The Mad Hatters and their brand new record
Live from Dead Squirrel Studios
(How about that cover art?) A band whose music is defined by the credo 'We're not famous but we know how to party' it's not hard to hear those elements in the funky blues rock sound of this group, as characterized by songs like The Fall of Gondolin. Something all you modern rock and rollers will want to hear Item 9 is gradually getting bigger and suffice to say
Live From Dead Squirrel Studios
shows they definitely deserve it.
Here's what makes the record special, the sheer polish as it is fused with the raw rock and roll energy that characterizes many of these songs. Somehow these guys strike a balance and find the right chord in my heart, showing me that their CAN indeed be some great rock and roll in 2013. With some cool old school elements mixed in with some more contemporary sounds reminiscent of groups like the Red Hot Chili Peppers this band is easy to fall in love with. These three songs give a great example of what Item 9 & The Mad Hatters are all about, and if you're any kind of rock fan then you'll soon be scouring their social networks for more of their custom 'modern vintage rock' goodness!
To wrap it all up, while this may only represent 12 minutes of music it also showcases a TON of heart and passion from a band who are not afraid to stand up and tell it like it is. I think the future will be bright for these Iowa natives, if only because they seem to have such a good grasp on what they want to do. Fusing the best bits of old and new their is a bit of something for everyone here, and the music is definitely not alienating. Fresh, loose, and fun,
Live From Dead Squirrel Studios
showcases Item 9 & The Madhatters at their finest, let's hope for more of the same!
Find them on Facebook!
https://www.facebook.com/item9andthemadhatters