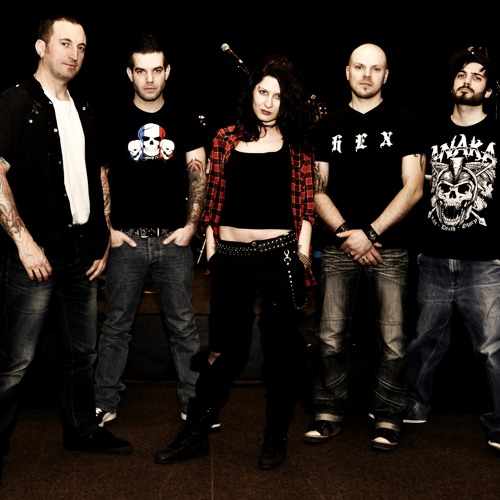 Some of you may remember how
impressed
I was with Unscarred when I went to seem them rip up Le Klub back in August. Well now I've gotten my hands on their demo, and by Thor is this stuff good! A lot of modern thrash metal doesn't really have anything special going for it, it just comes across as fairly bland. Fortunately, Unscarred seem to be the exact opposite of this with the elements taken from both classic thrash groups and the much more intimidating school of neo thrash. Here is a band who are not afraid to do their own thing and seem to leave a veritable trail of destruction wherever they go, all must kneel in the wake of a demo this powerful!
Fronted by Persian metal priestess Niloofar the band right away takes on a unique approach to thrash metal. Her vocal delivery is pretty unique, both with growls and some more epic and bombastic clean vocals, this adds a nice variety to the music and helps to keep things fresh and interesting. Their are a lot of tight choruses here too that encourage all sorts of thrash metal sing a longs. Meanwhile, the rest of the band carries on a very powerful and fresh approach to thrash. I particularly like the guitar solos which are not afraid to add a taste of jazz fusion into the mix. Meanwhile, the riffs have tons of Lamb of God inspired groove on them to keep things fresh and explosive.
In finishing, this demo represents some of the most glorious and fresh thrash metal to come out of Paris, ever, I kid you not. Few thrash metal bands find this incredible balance of old and new schools and Unscarred have quite a bit going for them. In other words, this is a band who bring something NEW to an overcrowded genre that has stagnated for too long. I get the distinct impression that Unscarred will soon be on the front lines of neo thrash with the likes of Ramming Speed, Nylithia, and Vektors creating a brave new world for thrash metal, where the true spirit of the genre, as reflected on this EP, will be allowed to shine in full, spreading the metal message to all peoples of the Earth.
Find them on Facebook!