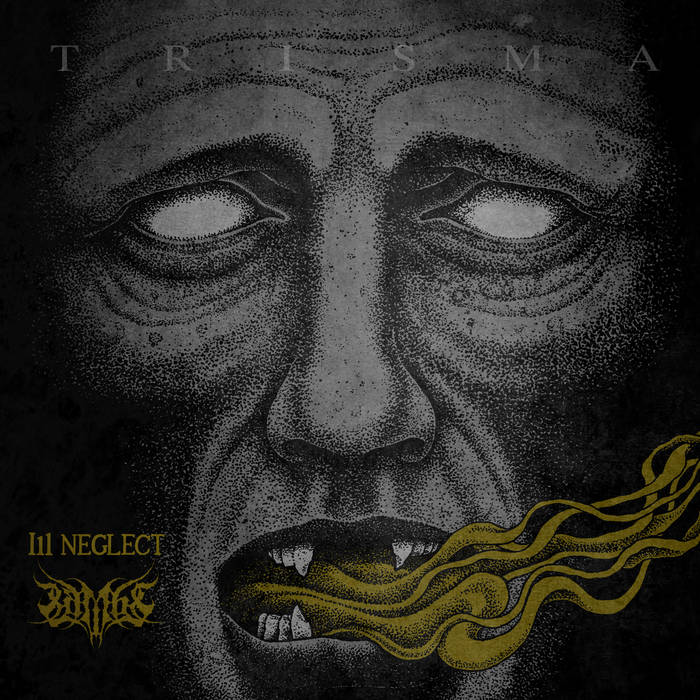 You gotta love fucked up punk rock splits. Ill Neglect and Lambs reflect something we have all come to love. There is something twisted about their latest joint offering,
Trisma
that is hard to ignore and which inspires you to dig ever deeper. These bands hit that killer cross section of sludge, crust punk, black metal and grindcore that makes me squirm with joy. It's easy to get lost in what the band has done and you find yourself pulling apart sonic highways that represent a sort of demented reality that few of us could ever ignore.
Ill Neglect contribute nobly on
Trisma
. Their hardcore tinged brand of grind is powerful and full of exciting, punishing riffs. There is something almost painful about the balls out attack of this record. It's easy to feel your face getting crushed in by the burning might of the band. They speak to the blackest most twisted sides of the grindcore genre and tear you apart limb from limb. Lambs bite into their side of things with a sort of gleeful dedication to violence. This is a band who understand the angular beauty of the genre and their twisted growls rock and roll throughout their seven inches of unholy wax.
This is one of those splits that just makes sense.
Trisma
is an album that balances out nicely. While yes Ill Neglect and Lambs both fit in the same sort of grindcore polemic they explore separate sides of the genre and hint at far greater, more demented realities.
Trisma
is the sound of bands who craft layers of sound, but who are sufficiently different that you end up looking at two totally different sonic landscapes. This is the sort of balance and beautiful equilibrium that makes punk rock so wrong yet so right.
Find the bands on Facebook!
Ill Neglect: https://www.facebook.com/illneglectdoom/?fref=ts
Lambs: https://www.facebook.com/lambsmetal/?fref=ts