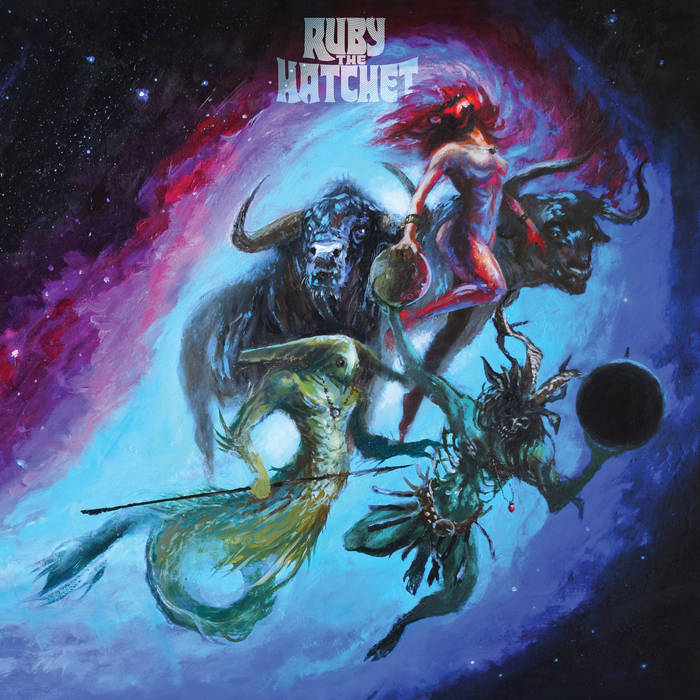 Ruby The Hatchet are an exceptional band and one who seem destined to take the world by storm as they continue to schlep their way across the globe with their distinct brand of aesthetic nailing 70s psych rock. In a world where many bands of their ilk slip into stoner rock boredom, Ruby The Hatchet have cultivated something truly special and exotic on their latest offering
Planetary Space Child
, proferring up seven tracks of tripped out and mind expanding rock and roll that's miles ahead of their debut.
I think one of the things that really gets me about this record is the extent to which it pushes the envelope for the band. While their previous records were only moderately supported by touches of Hammond organ and prog rock brilliance, this record sees the band growing into a full on psychedelic force. While they certainly adhere to a lot of the traditional tropes that this genre it feels like Ruby The Hatchet have gone above and beyond on this release, pushing the envelope to craft sounds and creations of the sort that few of their peers could ever really touch on or not even understand.
This is a band who have started to accept all that this genre of rock and roll can be. While they certainly don't alienate the listener they also remind us why we got invested in this in the first place. They remind us that their is a very real and visceral power to rock and roll, and that some of the old ideas remain the best ideas and should be dug into time and time again. Ruby The Hatchet have blown me away with what is easily their most ambitious and all encompassing work to date, and their fifth release in as many years.
Find them on Facebook!
https://www.facebook.com/rubythehatchet